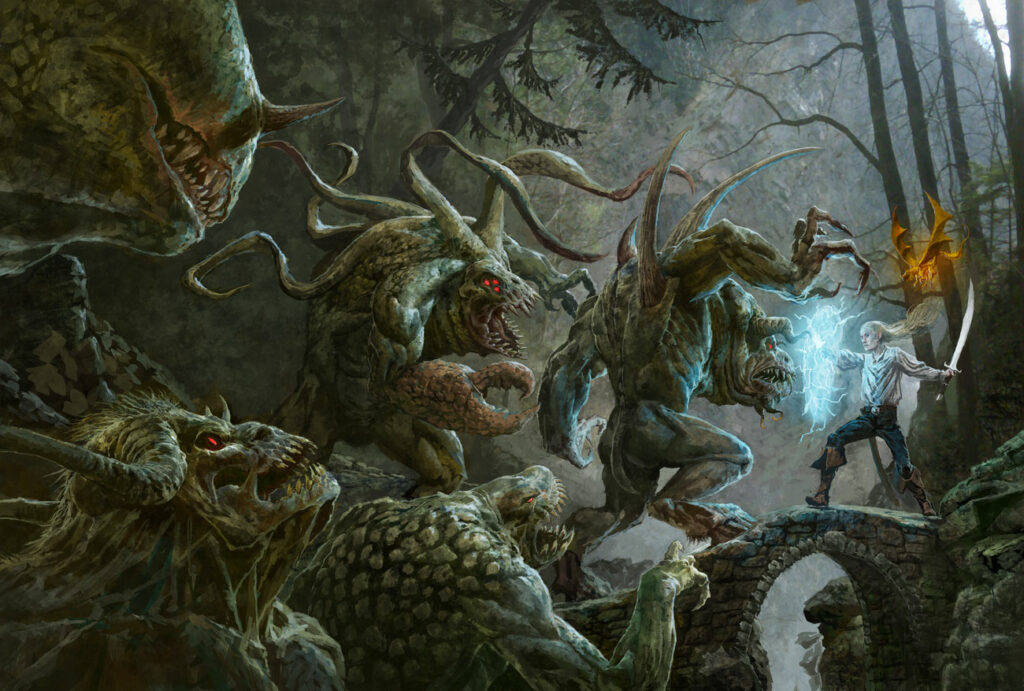 Join us for a series of intense online workshops in which we share our experience in creating compelling table-top roleplaying scenarios. Throughout the series you will be working on an RPG adventure that will have the quality to be published by the end of the course.
We will base all of our writing on a dark fantasy setting called "Nexor", which is currently being developed by Dragon Legion. The coursework includes working in groups as well as with instructors in a dynamic setting. There will be assignments and reviews of your work, so come prepared to roll up your sleeves and give it your best effort!
The course will be held in English.
Please apply using the form below. We have limited spots, so the earlier you sign up the higher your chances of getting into the course.
Course Dates:
The course will take place every other week on Sunday evening, from 8pm-9pm Central European Time.
Planned dates: April 2nd, April 16th, April 30th, May 14th, May 28th, June 11th, June 25th, July 9th, August 6th, August 20th, September 3rd, September 17th, October 1st, October 15th, October 29th, November 12th, November 26th, December 10th
Instructors:
FAQs
Where will the course be held?
We will invite you to a Discord server. We will be using voice chat when we have our regular Sunday sessions so you will need an internet connection which is stable enough. We will use the Discord server between sessions to have discussions and work as groups.
What if I can't attend every session?
We strongly encourage participants to attend every session, however we do understand that unexpected events can happen to anyone. Where possible, we ask that you inform us ahead of time when you are unable to join the session. Failure to show up for 3 sessions will be grounds for being dropped from the course. Even with excused absences, we will unfortunately have to drop you if you miss X session owing to the fact that you won't have the required information to complete assignments.
Do you guarantee my adventure will be published?
We can't guarantee your adventure will be published since we can't know ahead of time what sorts of adventures will be submitted. However, we can guarantee that the format we teach you to use is in line with the publisher of the Nexor setting, Smirking Dragon, who we guarantee will review and consider your submitted adventure. There will also be possibilities of other publishers getting to view your work, however we can't promise all attendees will have their work reviewed by publishers aside from Smirking Dragon.
Why is this course free?
The course is sponsored by the EU under the Erasmus+ programme. The reason for this is that it is part of a project that encourages the development of creative writing skills in young people. So we pay people to prepare the course materials and spend countless hours going over your texts and helping you become good at adventure writing.
How big is the workload?
After every session we will give you assignments. The workload will vary but keep in mind that you will be writing approximately 1-3 pages per week. Everybody works at a different pace, so you might be done with this very quickly or it might take you several hours.
Any other questions?
Send us an email at workshop@thediscordia.com if you have any questions that aren't covered here.

We need to ask you for your personal data in order to present statistics to the EU which funds the course. We will only use your data for anonymous statistics, we won't give it to anyone else. We need your email and your Discord handle in order to contact you and invite you to the Discord server on which we run the course. Please be aware that we have a limited number of slots (up to 30) and we might have to reject you if there are too many applications. You will get an invitation or a rejection email before March 25th.
Apply Online